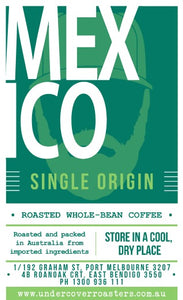 Tasting notes: Caramel, Elderflower, Gelato, Lime Soda, Lychee
Processing: Anaerobic Natural
Farm Name: Santuario Project - Ixhuatlan Processing Centre
Ixhuatlan del cafe is the processing centre of the Santuario Project Mexico.
It is a fully integrated facility, with wet and dry mills, greenhouses and drying areas, coffee garden, laboratory and a warehouse all dedicated to achieving quality excellence. The Ixhuatlan centre works with small producers from Veracruz to produce and isolate only the most exceptional lots, which are then processed under the watchful eye of the expert processing managers of the Santuario project.


To achieve consistently high quality, the focus begins on the farms. Brix measurements,
selective picking, meticulous cleaning and cherry sorting are all factors that are closely
considered before cherries are delivered to the centre. Cherries are picked at varying
stages of ripeness depending on the processing method they are undergoing in order to control and maximise the final quality of the coffee.
In the centre itself, all aspects of the post harvest are closely monitored and controlled. The state of the art facilities are incredibly clean, allowing the processing managers to precisely control each stage of fermentation. Each lot is slowly shade dried on African beds, with fans and extractors used to maintain absolute temperature and humidity stability through the drying process. The final result is an incredibly clean and stable coffee with great clarity and a long finish.