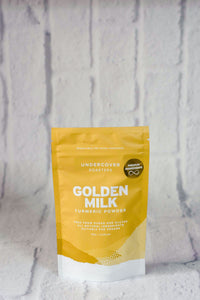 An ancient Indian recipe that combines a unique blend of authentic spices with added black pepper. When mixed with warm milk, it is said to boost the immune system, improve the skin and calms the body.
To prepare:
1. Add 1/2 teaspoon of golden milk into a cup
2. Add heated milk of choice whilst stirring
3. Sweeten to taste, serve and enjoy!
Ingredients: turmeric, cinnamon, ginger and black pepper.
Allergens: May contain traces of tree nuts.